The Company
For over 35 years, Soema has been an expert at researching, designing and creating high traffic sanitary areas and changing rooms, providing extensive specialized skills. From planning to implementation, Soema takes care of every aspect, ensuring time and cost saving. All Soema products and systems offer the best possible quality on the market and are a guarantee of durability over time.
One single reference partner: from planning to completion
FROM INITIAL DESIGN TO FINAL COMPLETION
Handcrafted Technology Soema
TIME AND COST SAVING
Please contact us
TECHNICAL ASSISTANCE SERVICE
A COSTUMER SUPPORT TEAM
CALL US NOW
ANSWER YOUR QUESTIONS
Our latest creation: the first automatic door applied to thin panels.
Totally No-touch, the Soema Copernico Door is made with a particular automatism on a hinged door with reduced thickness.
An innovation that guarantees:
➡️ Maximum accessibility to all users
➡️ Greater hygiene and safety in public environments
➡️ Reduction of the risk of contamination in highly frequented places
For more information:
sales@soema.it
Hear Our Customers "The best moment for us was when the first guests came to the reception to compliment…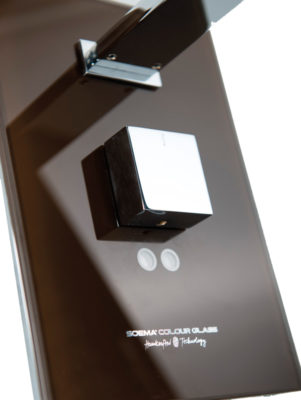 Glass What is glass? Glass is a material consisting of silicon. For washbasin countertops glass sheets are thermoformed so as…
How to take care of STAINLESS STEEL surfaces? Stainless steel is one of the most widely used materials for interior…
Subscribe now to our newsletter
Stay updated with the latest news of Soema automatic systems. You will receive news and information about our products on your email.